Nancy Altman
Sept. 11, 2019
The aftermath of September 11, 2001 brought us together as a nation. On the anniversary of that tragic day, it is beneficial to reflect on the twin values of unity and security that were so on display in the days that followed 9/11.
It is especially important to reflect on that moment of national unity because it contrasts so sharply to the current political moment. We are living at a time of extremely polarized politics, when the occupant of the Oval Office seeks to divide us from each other and undermine our essential institutions.
Eighteen years ago, the nation came together, notwithstanding a controversial presidential election less than a year before. Together, we witnessed the heroic bravery and sacrifices of the police officers and firefighters who ran toward the danger as everyone else ran the other way. Less visible, but inspirational nonetheless, was how our institutions of government so valiantly responded.
One of the government institutions that especially stood out was the Social Security Administration. Social Security is the manifestation of all of us united, sharing risks and responsibilities, all in the name of greater security. Indeed, "security" is captured in the very name of the program — Social Security.
---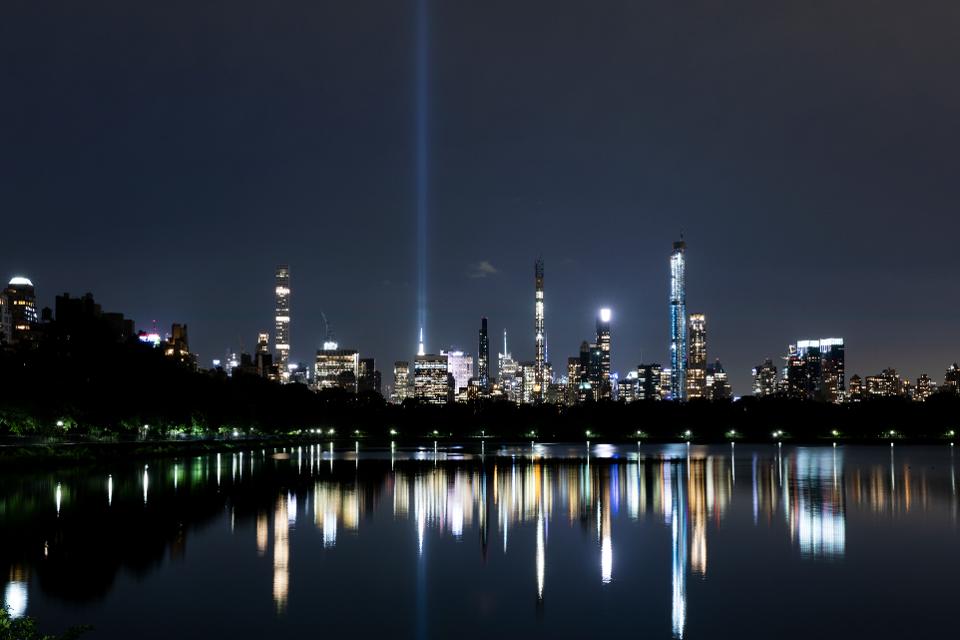 ---
We often think of security in terms of physical security, but security takes many forms — including economic security. The greatest security comes from collective action. To protect from physical assault, we are safest when we join with others. The same is true of economic assault, against which we join together through Social Security.
Thanks to the hard work and Social Security contributions of those who died on 9/11, virtually every child who lost a parent that day received Social Security benefits every single month through their late teens. The victims of that terrorist attack also earned monthly benefits for their surviving spouses who cared for these children. That's why over 2,300 children who lost a parent on 9/11 and 850 surviving spouses have received monthly Social Security benefits .
Benefits have also been paid to over 640 people who were severely disabled as a result of the terrorist attacks, and to their around 100 children and spouses. In the first five years following 9/11, Social Security paid out $175 million in benefits to people harmed by the terrorist attacks.

Every payday, Social Security contributions are deducted from our wages. They are transferred, without fanfare or press releases, to the Old Age and Survivors Insurance Trust Fund and the Disability Insurance Trust Fund, out of which the 9/11 families and first responders received payments.
Indeed, Social Security was among the first insurers working with families after the attacks. Hardworking SSA employees processed claims under emergency procedures so that benefits could be paid quickly, based on employer and airline records, without waiting for the usually-required death certificates. The first benefits were paid less than a month later, on Oct. 3, 2001.
Social Security is often described as a retirement program for the aged. The truth is that it provides security throughout our lives. Social Security is insurance against the loss of wages in the event of death, disability or old age. Social Security's life insurance, disability insurance, and retirement annuities are by far the most important — and often only — economic security we have when tragedy strikes in the form of death or disability, or when the fortuitous happens and we live to old age.
As 9/11 reminds us, tragedy can strike at any moment. The Social Security Administration reports that just over one out of four 20-year-olds will become disabled. One out of nine will die. As soon as Americans begin working and contributing to Social Security, they start to gain protection for themselves and their families against these risks.
In addition to its life and disability insurance protections, Social Security is unmatched when it comes to providing for a secure retirement. Neither stock market fluctuations nor inflation undermines its value. One can outlive savings, but not Social Security — even those who are fortunate enough to reach their hundredth birthdays and beyond.
Social Security provides this life insurance, disability insurance, and retirement annuity much more efficiently, universally, securely and fairly than its private sector counterparts because it is sponsored by the federal government. Insurance is most cost-efficient and reliable when the risks are spread across as broad a population as possible and when no one can purchase the insurance when personal risk factors increase – a practice known as adverse selection. The only entity that has the power and ability to establish a nationwide risk pool, avoiding adverse selection, is the federal government. It is the only institution that can make the insurance mandatory and universal.
Like the unity we embraced in the immediate aftermath of 9/11, Social Security is the manifestation of us as a united people. People of all races, genders, religions and political affiliations contribute to and benefit from Social Security. Immigrants who are not yet citizens naturalized citizens and those born here contribute to and benefit from Social Security. Indeed, undocumented workers contribute more than the rest of us because they contribute without collecting the benefits they have earned.
Social Security would not be possible without the hardworking civil servants employed at the Social Security Administration. Some of them were working at 26 Federal Plaza in Manhattan, within view of the World Trade Center, the towers into which two of the hijacked planes flew. They felt the shock waves and saw the buildings ablaze as they were evacuated.

They and their coworkers in Pennsylvania, Washington, D.C. and elsewhere jumped into high gear. In New York alone, they worked with the New York Police Department, the Fire Department and the Port Authority to find the families of every firefighter and police officer who had died. Social Security employees were at the Family Assistance Centers established at Pier 94 and Liberty State Park. They set up a special web page, informing the families of the victims about how to apply for benefits, as well as displaying the 800 number and a link to Social Security's office locator.
By September 16, 2001, public information spots about Social Security were running on every major network affiliate in New York City, on the local television stations and on Spanish-language stations. In addition, Social Security distributed press releases and fact sheets to national media outlets and advocacy organizations.
Program representatives called the families of every missing employee of those companies located in the World Trade Center. Social Security caseworkers spoke with the families of each missing firefighter and each missing police officer. The program contacted a number of the city's largest financial service corporations, which might have had people in the World Trade Center on the day of the attack. The program's employees phoned the union that represented the restaurant workers in the World Trade Center. To make sure Social Security reached foreigners who might be eligible for benefits, its representatives called over 60 consulates. All of these steps were taken on top of Social Security's normal workload.
Social Security employees worked 15-hour days, seven days a week to get benefits to the families as quickly as possible. Long though the hours were, the program's employees were eager to work. One of those employees described that experience:
The most difficult, and at the same time most gratifying, work I did was to help relatives of 9/11 victims file for Social Security…One woman, in particular, stands out in my mind. Her husband was only in his 40's and she had 2 young boys. She…came to my office with a picture of her husband, a tall, handsome man, with his arms around her and the children. We sat in the lobby of my building, with tears rolling down our cheeks…I always feel that the work I do is vital and of great service to the public, but never more so than during those months when we helped the 9/11 relatives.
Her salary, along with Social Security's other administrative expenses, comes from the Social Security trust funds to which we contribute every payday. The Social Security Administration is there for us at times of national as well as personal tragedies. Social Security was similarly efficient and invaluable after Hurricane Katrina, as it is after every natural disaster.
As Donald Trump and his Congressional allies seek to undermine our confidence in government, let's remember how important Social Security is to us. Let's remember the words of former Secretary of Defense and Senator William Cohen (R-ME), "Government is the enemy until you need a friend."
The attacks of 9/11 reminded us of the importance of family and heightened our appreciation for public services. They also showed the value of our Social Security system — reliable and necessary in an insecure world. If the Democratic Party and the American people have their way, it will be even better in the future.
This article was written by Nancy Altman from Forbes and was legally licensed by AdvisorStream through the NewsCred publisher network.